To the overview
The best toothpaste for you
The range of kinds of toothpaste is huge. There are many different brands, such as Sensodyne, Crest Pro Health and Colgate. While one promises fresh breath with minty flavour, another supports the gums or helps to whiten teeth (whitening toothpaste). Still, other toothpastes are designed to combat tartar, pain-sensitive teeth or aphthae. Then there are fluoride and fluoride-free toothpastes or SLS or SLS-free.

Andrea Seraina
Dental Content Specialist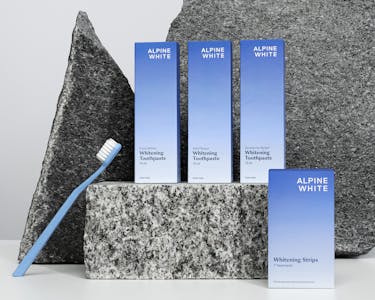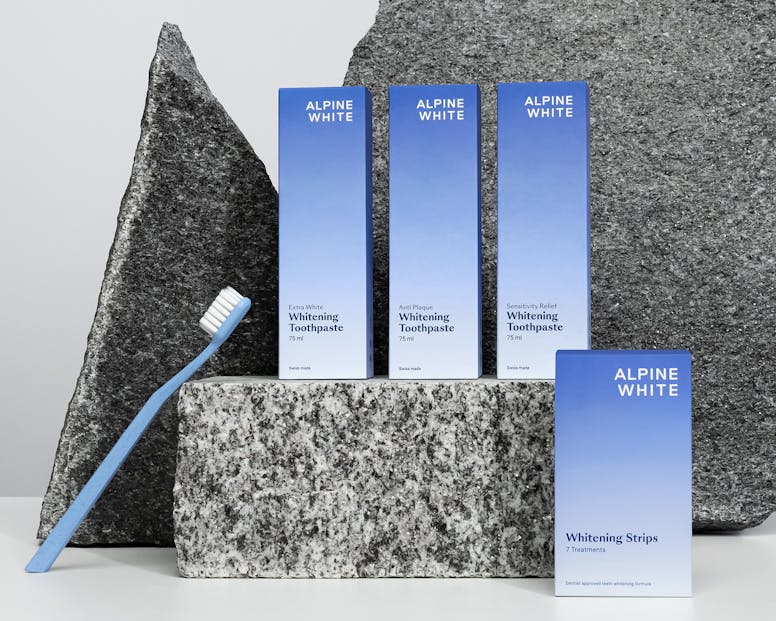 The large offer is sometimes almost overwhelming and does not make the decision for the best toothpaste any easier. We want to have all the advertised promises combined in one tube and only the best for our teeth. However, the focus is on cleaning and freshening the teeth and maintaining oral health.
Toothpaste is an integral part of daily oral hygiene. Few people think about what ingredients are contained in toothpaste and whether they are harmful. Since toothpaste is only put in the mouth and spat out again, people don't think much about it. But our oral mucosa absorbs ingredients very quickly - including the substances contained in the toothpaste.
This is how they get into our bloodstream. Some toothpastes contain ingredients that are not harmless. For example, there are still countless kinds of toothpaste that use ingredients such as triclosan, which has been proven to be carcinogenic. In the following article, we explain the most important ingredients.
Harmful ingredients and toothpaste without toxic ingredients
Many dental care products from supermarkets and drugstores sometimes contain harmful ingredients. Although we spit some of them out after brushing our teeth, some of them are absorbed into our bodies through the mucous membranes of our mouth. The following ingredients are controversial and should be avoided or used with care.
Triclosan
Triclosan is the most controversial ingredient and is a chemical disinfectant and preservative that destroys microbes of all kinds. It is mixed into toothpastes and mouthwashes for caries prevention and to treat gum problems. It is also used in other everyday products such as deodorants, hand soaps and so on.
Since it destroys all microbes of all kinds when ingested it not only harms the harmful bacteria that would lead to tooth decay but also upsets the healthy oral flora. The body's defences, which are normally found on the mucous membrane of the mouth and would protect the body independently from invading pathogens, can no longer regenerate in the presence of triclosan.
Sodium lauryl sulphate
Sodium lauryl sulphate is often used in toothpastes and is a surfactant added as a cleansing component in many personal care products. It is a wash-active substance that is considered relatively aggressive and can irritate mucous membranes.
There are milder alternatives that can be used. Therefore, toothpastes containing this ingredient should be avoided.
Parabens
The function of parabens in toothpaste is to ensure its durability. Since most manufacturers find high-quality preservatives such as grapefruit seed extract or vitamin E too expensive, they often resort to parabens. Parabens are usually declared as methylparaben, ethylparaben, propylparaben, butylparaben or benzylparaben.Parabens have a hormonal effect and it is undisputed in science that they affect the hormone balance. However, it is difficult to assess the damage to health. What is clear, however, is that parabens accumulate in our bodies.
Titanium dioxide (designation E171 or CI77891)
Titanium dioxide is a whitening agent that has been used in paints, plastics or building materials for hundreds of years. Since the 1990s, it has also been found in food or cosmetics in the form of nanoparticles - which is how titanium dioxide gets into toothpaste. In toothpaste, it is used to colour the toothpaste white. Although the substance has long been classified as hazardous to health, potentially carcinogenic and therefore harmful, this is only the case when it is present as a nanomaterial in inhalable dust. In the case of toothpaste, therefore, there is usually no danger of titanium dioxide being inhaled and often the proportion of nanoparticles is very small.
Fluoride
Fluoride in toothpaste is added to harden tooth enamel and help prevent tooth decay. Fluoride toothpaste is also known for fighting cavities. In principle, fluoride is harmless, but an overdose can be harmful. For this reason, you should not eat all your toothpaste at once. In this article, you will find out which is the perfect amount of fluoride for your body weight.
Which toothpaste cleans my teeth properly?
Toothpaste is your daily companion, so it should clean thoroughly and be gentle on your teeth and gums. It should also prevent tooth decay and harden the enamel. But how do you decide on the right toothpaste? According to Stiftung Warentest, toothpaste should contain fluoride because it fights tooth decay. But you should also pay attention to your needs: Do you have sensitive teeth, are there free tooth necks or do you already have cleaning damage? Then you should make sure that the abrasion of the toothpaste is not high. And do you have excessive tartar and bad breath? Then use a cream containing zinc. If you have problems with bleeding gums, some kinds of toothpaste will help you with this concern. Even if it tastes better: don't use toothpaste with sweeteners, but rather look for one with a fresh mint flavor.
In addition, you should also use dental floss to deep clean your interdental spaces. Electric toothbrushes can help with excellent oral care as well.
Types of toothpaste
There are three types of toothpaste to choose from.
Universal: This tooth cleaning offers standard care for healthy teeth and promises a positive effect on your teeth, gums and enamel. Another effect is the protection against caries or removal of gingivitis build-up, which means that fluoride is included in the toothpaste. Furthermore, universal kinds of toothpaste should also protect your gum health.

Sensitive: People with sensitivity like gum disease should use sensitive toothpaste. A common cause of tooth sensitivity is when the dentin, the water-filled layer underneath the enamel, is exposed. To counteract this, the toothpaste should have a low abrasion and be gentle. Tin stannous fluoride, sodium fluoride or potassium nitrate, for example, are used as active ingredients in these toothpastes. You can also find whitening or cavity protection toothpaste for sensitive teeth.

Whitening toothpaste: The whitening toothpaste contains, for example, hydrogen peroxide, calcium carbonate and silica. It further has a high RDA value. This value is the measure of the whitening effect of the toothpaste. So the higher the value, the more the tooth is abraded. Therefore, whitening pastes that are too strong should not be used permanently, otherwise, there is a risk of damage to the tooth substance. And no, you should not use baking soda as a whitening product.

The right toothpaste for children
Finding the right toothpaste for children is no less difficult than finding the perfect toothpaste for yourself. The adapted tooth gels for young age should be used until the age of 6. Toothpastes for children contain less fluoride than those for parents. In addition, a precise dosage should prevent fluorosis. This is because white enamel stains occur when young children take in too much fluoride. The toothpastes usually have a special taste, such as mint flavor, as it is more appealing to children. In addition, children's toothbrushes should also be used, as the size of the tooth head is adapted.
Clean Beauty
It is hard to imagine the cosmetics industry without the Clean Beauty trend. It is no longer a trend, but a growing movement.
Behind Clean Beauty is the desire to use only products with ingredients for one's skin that do not negatively affect the body. It means something like "clean cosmetics", although there is no fixed definition of it.
As a rule, the manufacturer refrains from using controversial, potentially critical ingredients that hurt the environment and are suspected of having consequences on our health.
With some labels, it is even assumed that the products are not tested on animals and do not contain any irritating ingredients. In general, today's consumers want more transparency and sustainability from the cosmetics industry.
There is no generally valid definition of which ingredients are no longer included. But the focus is on silicones (synthetic ingredients), PEGs (polyethene glycol), parabens, phthalates (softeners that can cause hormone disruption), sulphates, mineral oil products, formaldehyde or chemical UV filters such as oxybenzone.
Clean Beauty is to be distinguished from natural cosmetics. The latter is based on raw materials of natural origin. Sustainable products are also produced without animal testing and under fair working conditions.
So with natural toothpastes as well as other dentistry products, it is very important to pay attention to the composition and ingredients.
Alpine White toothpastes
At Alpine White, we offer you three different toothpastes, so there is something for everyone. All three products are based on a clinically tested whitening formula and are formulated and produced in Switzerland. They also provide your daily gentle oral and dental care. The antioxidants in the pastes promote healthy gums and protect against gingivitis. With our toothpastes, your smile will be super white and extra fresh. The RDA value also stays within the normal range for an adult which enables you to use any of the Whitening Toothpastes every day.
Toothpaste for whiter teeth
With our Whitening Toothpaste Extra White, you'll get the maximum whitening experience every time you brush your teeth. The toothpaste is also known as our charcoal toothpaste as activated charcoal and optical blue light filters are included. This whitening product brightens up your teeth while it protects your oral health.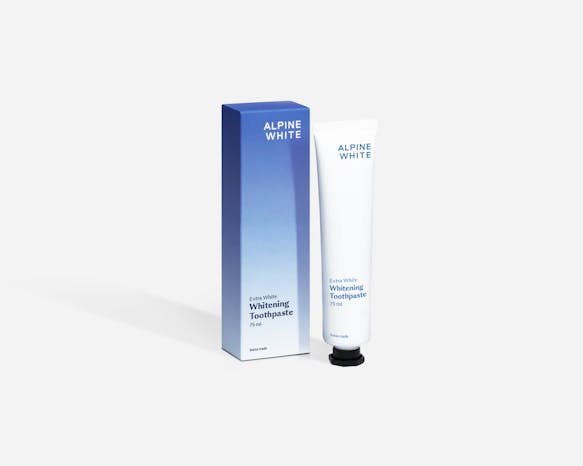 Whitening Toothpaste Extra White
CHF 19.90
75 ml • CHF 26.53 / 100 ml
Would you like the maximum whitening result every time you brush your teeth? Then this Toothpaste with Activated Charcoal and an optical blue light filter is just made for you. For gentle daily dental and oral hygiene.
Ensures extra-white teeth
Based on our clinically tested Whitening formulation
Remineralizes the enamel and relieves existing tooth sensitivity
Antioxidants for healthy gums
Formulated and produced in Switzerland
Toothpaste for sensitive teeth
People with exposed teeth necks usually prefer sensitive toothpaste. With our Whitening Toothpaste Sensitivity Relief, you get the double package of dental care and teeth whitening in one. The toothpaste also helps with tooth hypersensitivity and is the perfect at-home care product.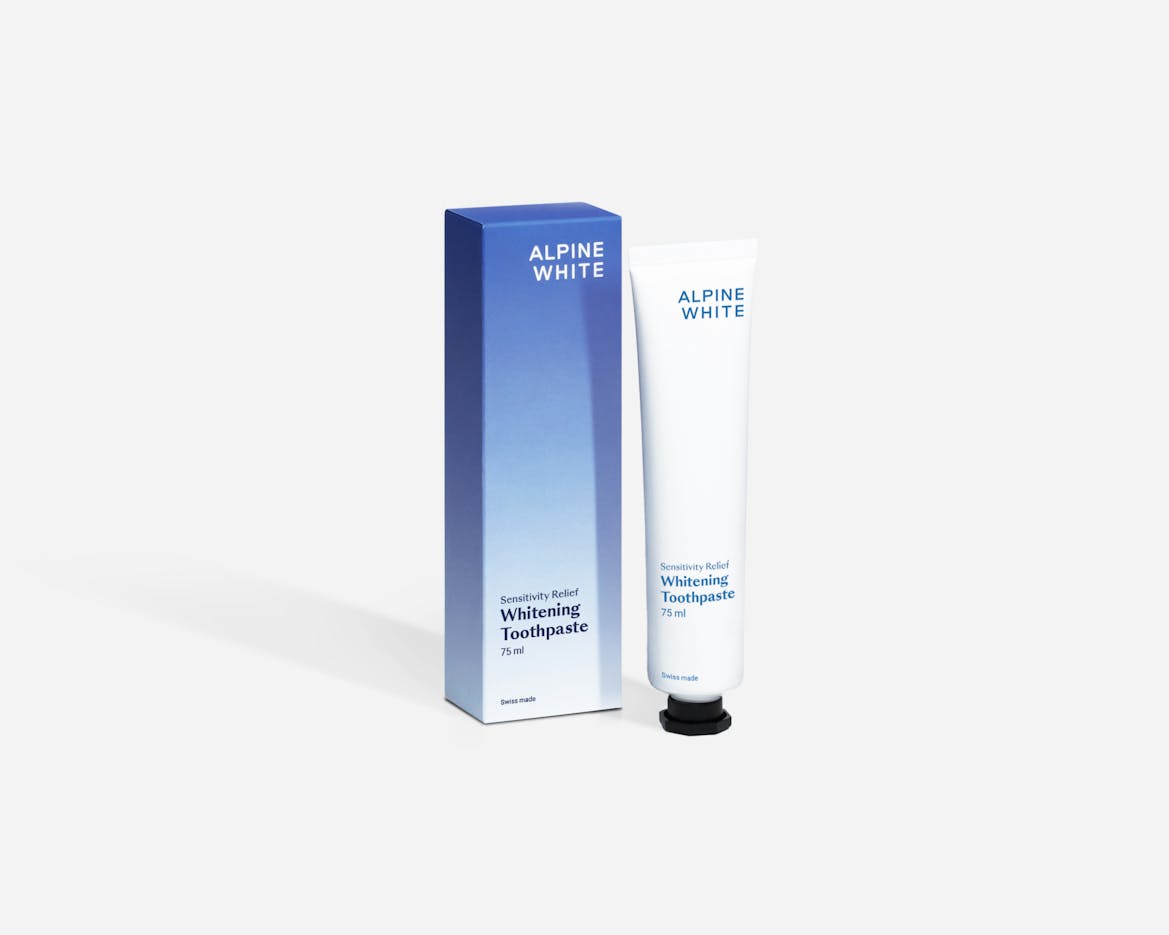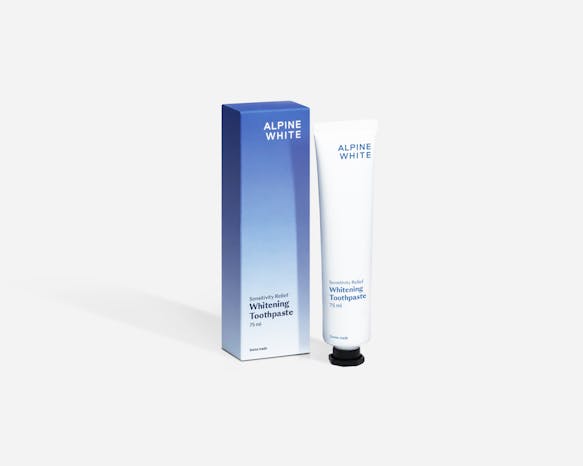 Whitening Toothpaste Sensitivity Relief
CHF 19.90
75 ml • CHF 26.53 / 100 ml
Your first aid for sensitive teeth. Whitening for sensitive teeth with Whitening Toothpaste Sensitivity Relief. For gentle daily dental and oral hygiene.
Relieves tooth hypersensitivity
Based on our clinically tested Whitening formulation
Remineralizes the enamel and relieves existing tooth sensitivity
Antioxidants for healthy gums
Formulated and produced in Switzerland
Toothpaste against plaque
Do you have problems with stubborn plaque? Then our Whitening Toothpaste Anti Plaque is just right for you. The white toothpaste helps you whiten your teeth and cares for them at the same time. It removes stubborn tartar and discolouration.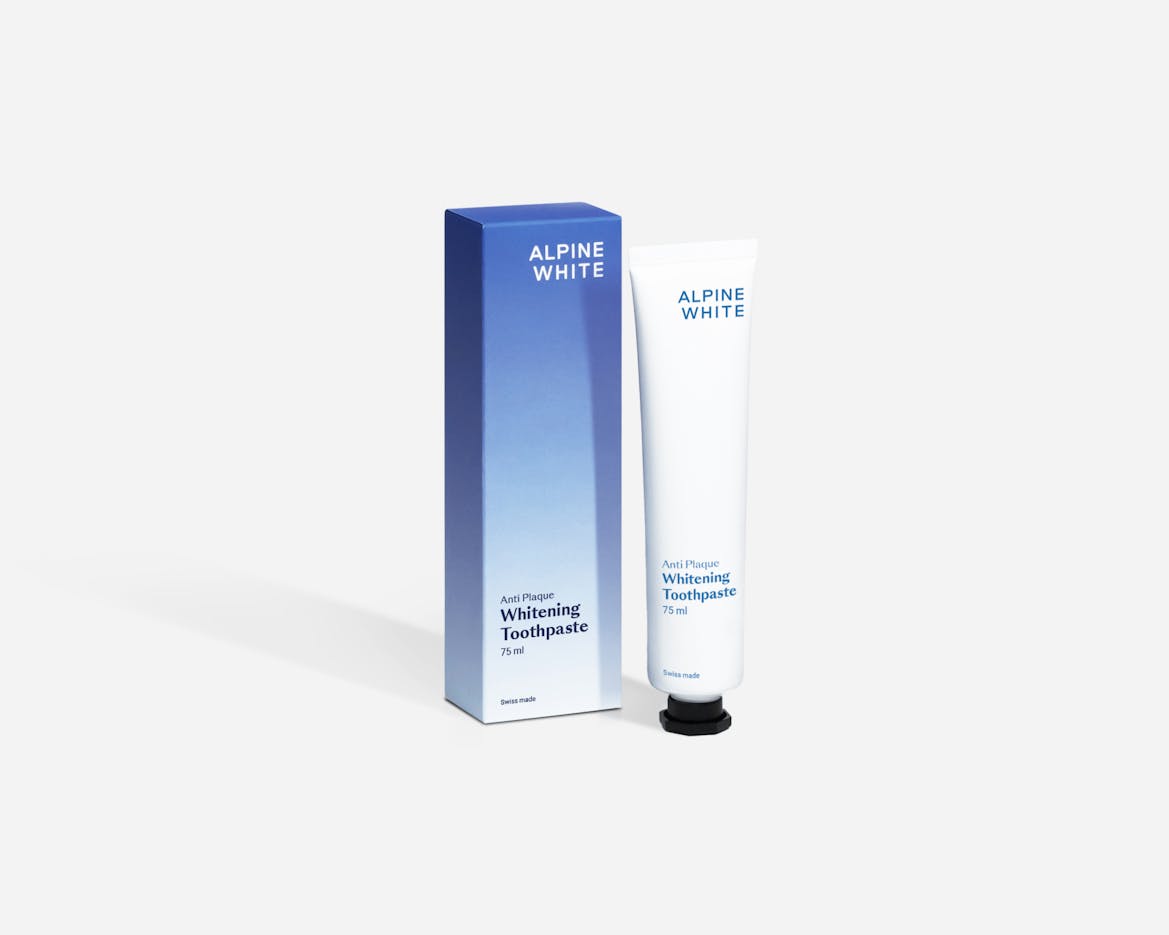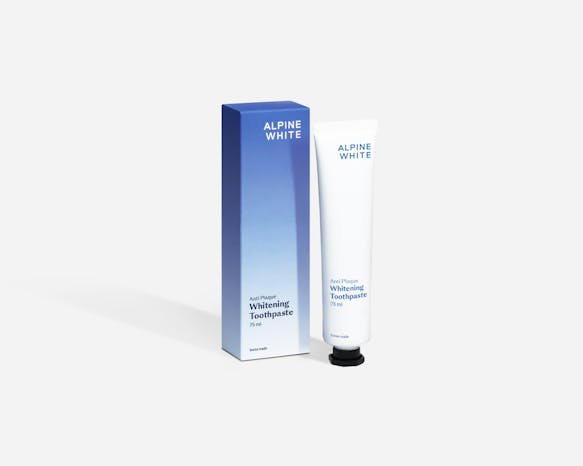 Whitening Toothpaste Anti Plaque
CHF 19.90
75 ml • CHF 26.53 / 100 ml
Your solution for stubborn plaque. Whitening Toothpaste Anti Plaque is designed to remove plaque and whiten teeth at the same time. For daily gentle dental and oral hygiene.
Removes stubborn stains and tartar
Based on our clinically tested Whitening formulation
Remineralizes the enamel and relieves existing tooth sensitivity
Antioxidants for healthy gums
ormulated and produced in Switzerland
This might also interest you