To the overview
The advantages of Airflow tooth cleaning compared to the conventional tooth cleaning method
Are you looking for a way to improve your oral hygiene? Airflow teeth cleaning could be the answer. Because with an Airflow treatment, your teeth are freed from stubborn dental plaque and the interdental spaces are thoroughly cleaned. This protects your teeth from caries, periodontitis and other dental diseases. Learn more about modern teeth cleaning in this article.

Andrea Seraina
Dental Content Specialist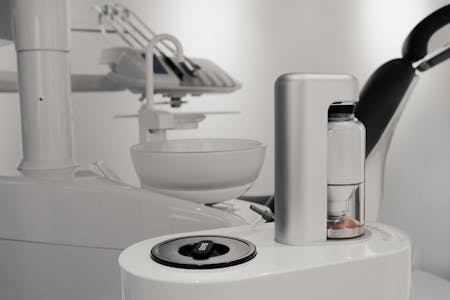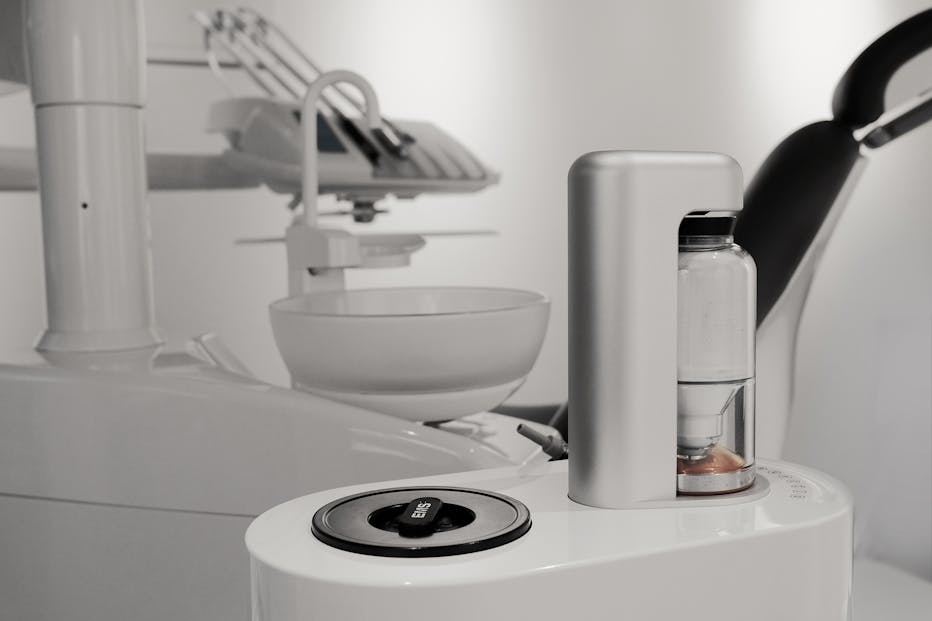 What is Airflow teeth cleaning?
Airflow teeth cleaning is a relatively new air-polishing dentistry treatment that has become increasingly popular in recent years due to its effectiveness and protection of tooth enamel. The procedure uses compressed air, water and fine powder particles to remove biofilm, tartar and stubborn stains from the surfaces of the teeth without damaging the enamel or causing damage to the gum pockets.
The history of Airflow began in the early 2000s when it was developed by Swiss dentist Dr Martin Frei as an alternative to traditional tooth polishing methods. Today, many dentists, dental hygienists and dental hygienists recommend Airflow as a safe way to keep your smile bright and healthy!
Teeth cleaning with Airflow - how does it work?
When teeth are cleaned with the powder jet device, the dental professional sprays a stream of air mixed with water and fine particles onto your teeth. The particles in the water jet are fine enough to get into tight spaces or along the gum line which you can't easily reach with conventional brushing. When the powder particles come into contact with the tooth surface, they break up deposits such as plaque and tartar and act as stain removal. Once the polishing is complete, you can enjoy a brighter smile without any damage to your enamel or gums.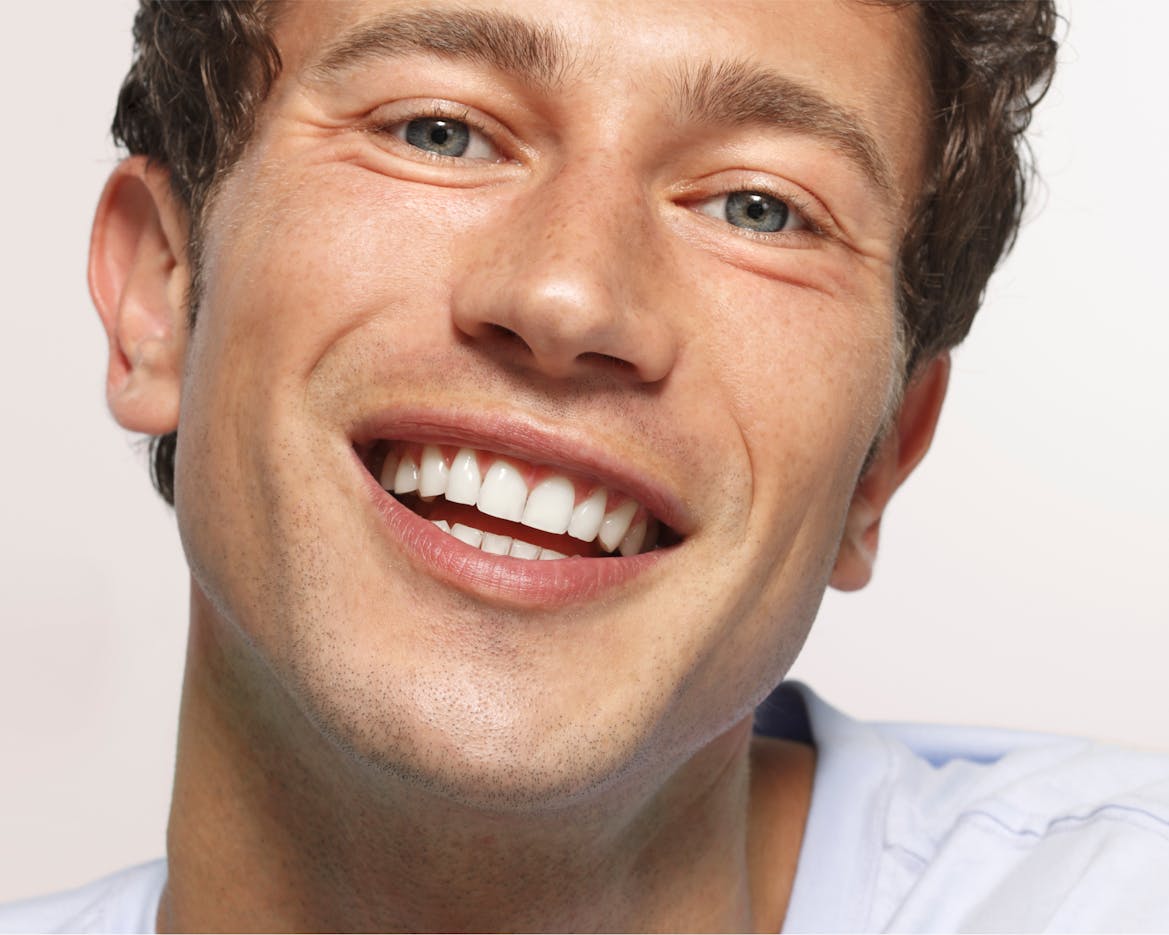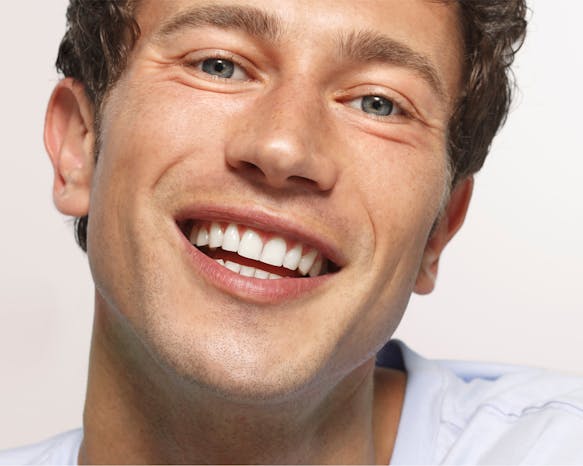 Dental hygiene
For a healthy mouth, regular professional dental cleaning is essential. Our specialist staff detect signs of caries at an early stage and prevent them.
Dental hygiene with the latest technologies
Relaxing atmosphere and gentle treatment
Easy to book online
Book appointment
What is the difference between Airflow and the traditional method?
Airflow teeth cleaning is an innovative alternative to traditional dental hygiene treatment. Unlike traditional cleaning, tartar, surface stains and discolouration are proven to be in less time removed from the teeth. In addition, many patients find Airflow much more comfortable than a traditional time-consuming teeth cleaning treatment.
What are the benefits of Airflow method?
The Airflow method offers a number of advantages. One major advantage is that it is gentle on the enamel and does not damage the teeth and gums in any way. In addition, the method is very effective thanks to the fine particles and patients find the Airflow tooth cleaning pleasant because the compressed air is precise and gentle on the tooth surface. Another advantage is that if you wear braces, stuck food debris can be easily removed with this method. Restorations, veneers, periodontal pockets, and fissures can also be cleaned optimally.
Here are the advantages at a glance:
Protection of the tooth enamel

Prevention of gum diseases like gingivitis

Removal of plaque, tartar and stubborn discolouration

Painless and precise application

Improves oral hygiene and the smile in the long term

Alternative to conventional hand instruments

Easy cleaning of hard-to-reach areas like orthodontic brackets and dental implants
Are there any disadvantages to Airflow teeth cleaning?
Despite the many advantages of Airflow teeth cleaning, there are also disadvantages. Some people experience temporary tooth sensitivity after treatment, but this is a known side effect of professional teeth cleaning.
Reasons for pain during or after dental hygiene:
Hypersensitivity: if you have pain-sensitive teeth, cleaning and removing plaque and tartar can cause temporary pain. However, this is usually only a short-term problem and should soon go away.

Gum inflammation: If your gums are inflamed, dental hygiene can cause pain. 

Gum pockets: Gum pockets that are deep enough to reach the root of the tooth can cause pain.
However, toothache usually passes quickly and it is important to know that professional dental cleaning can reduce existing problems and inflammation.
How often should professional teeth cleaning with Airflow dental cleaning be performed?
Teeth cleaning or prophylaxis should be performed every six months or more frequently, depending on your individual oral hygiene needs. When used regularly, Airflow professional teeth cleaning can save you time and money by reducing or even eliminating visits to the dentist's office.
However, you should not forget about regular dental care. Daily brushing and flossing are important for optimal oral hygiene.
What does an Airflow dental cleaning at ALPINE WHITE cost and how does the treatment work?
Dental hygiene including Airflow teeth cleaning in all our ALPINE WHITE Studios costs 150 Swiss francs. You will receive airflow therapy without unnecessary tax points.
The treatment takes place in our ALPINE WHITE Studio. An experienced dental hygienist will check your oral health and after the assessment will draw up an individual oral hygiene programme for you.
Microbial plaque is then removed with gentle airflow technology and tartar and stubborn discolouration don't stand a chance with the ultrasonic piezo-no-pain method.
Finally, your teeth are polished and, if desired, fluoridation is carried out to delay the formation of plaque and caries build-up.
At ALPINE WHITE you can also have a teeth whitening in our Studios or an Oral Health Checkup.
This might also interest you