To the overview
Bright smile thanks to ALPINE WHITE In-Office Bleaching
Do you want a smile that is not only bright white but also healthy? Then ALPINE WHITE In-Office Bleaching is just right for you. In this blog post, we explain more about our unique bleaching method and tell you what you can expect from a visit to our ALPINE WHITE Studio.

Andrea Seraina
Dental Content Specialist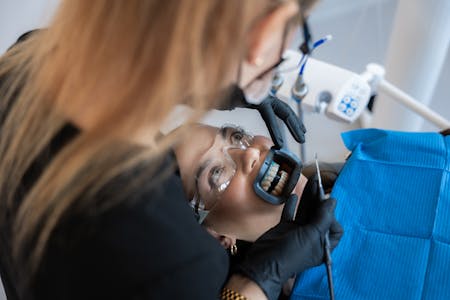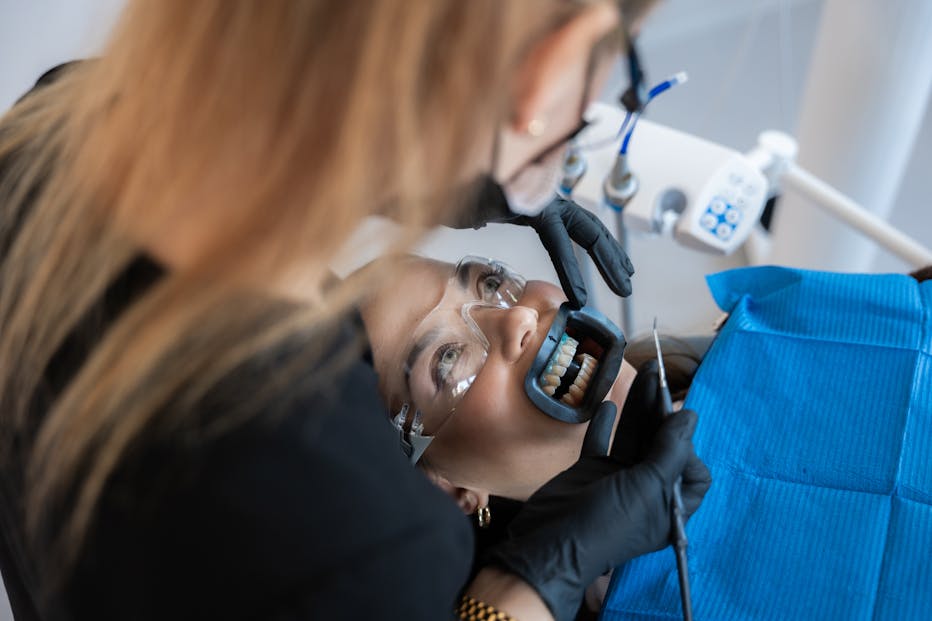 What is teeth whitening and in-office bleaching?
Teeth whitening is also known as bleaching. It is a cosmetic process to lighten tooth colour. The aim of this cosmetic dentistry procedure is to reduce discolouration and pigment and give your teeth a whiter and more radiant appearance. To achieve this, a bleaching agent is applied to your teeth. The types of bleaching agents or bleaching gel and the procedure can vary, read more about the different bleaching methods.
However, in this blog post, we will focus on in-office bleaching. This professional teeth whitening, compared to other less effective home bleaching systems, is performed at our ALPINE WHITE studio and is based on our patent-pending fluoride-enriched bleaching gel. Our bleaching gel does not contain hydrogen peroxide and carbamide peroxide, in contrast to the whitening agent used fore peroxide bleaching in the dental office, such as in power bleaching, which allows you to whiten your teeth without pain or harm to your oral health.
In-office bleaching, also commonly known as chairside bleaching, is a professional bleaching procedure performed by our expert dental staff. So that you know what to expect, we explain the process step by step.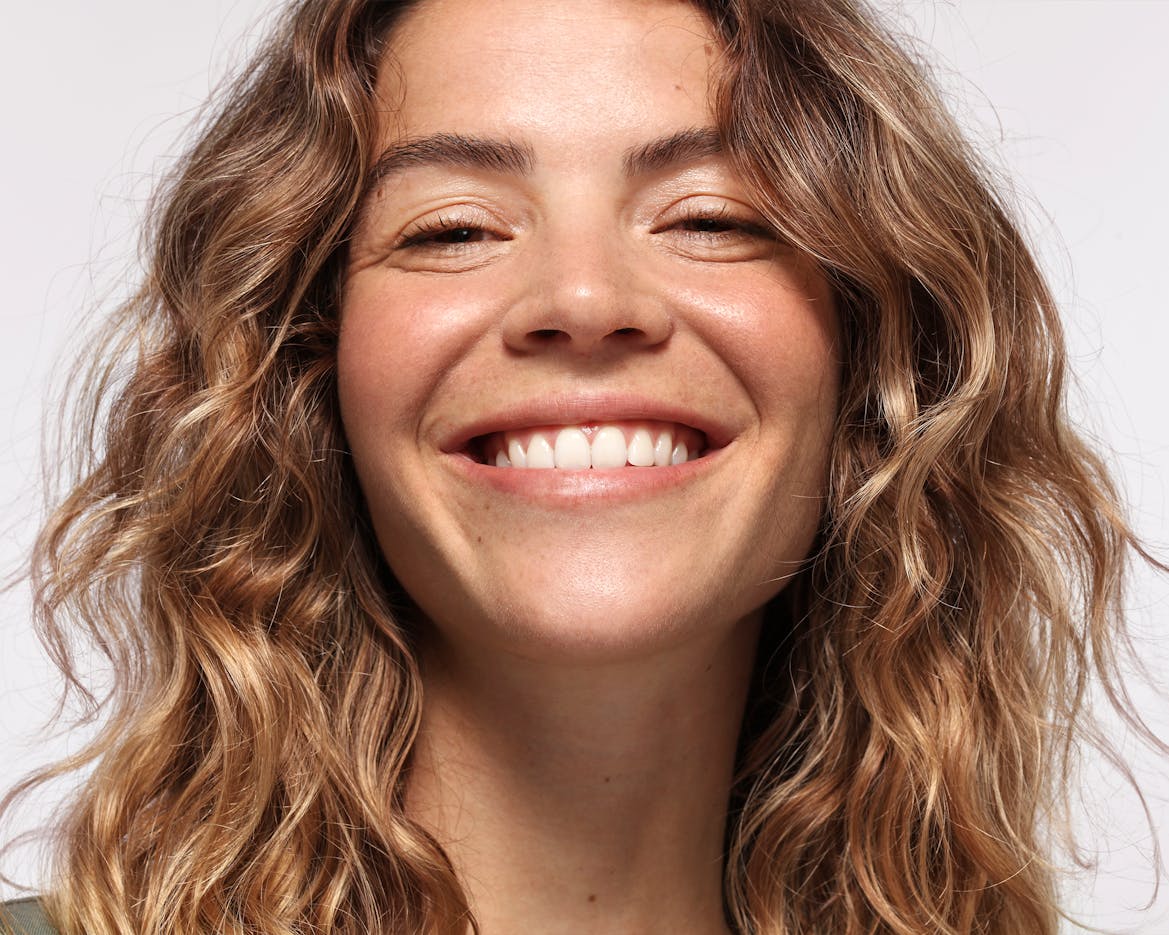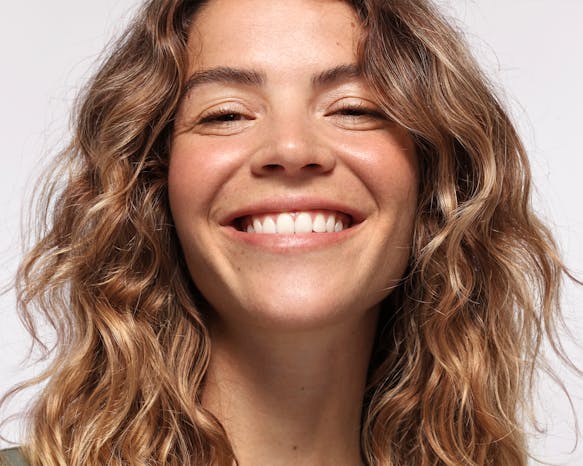 Bleaching
Whiten your teeth painlessly with our in-office bleaching. Performed by expert dental hygienists.
Naturally white teeth
Painless and without peroxides
Easy to book online
For best results, please make sure that your last dental hygiene was no longer than 2 months ago.
Book appointment
Advantages of In-Office Bleaching
There are a lot of benefits to ALPINE WHITE in-office teeth whitening. As mentioned earlier, you won't have any pain from the whitening process. This is because our in-office treatment does not use peroxides and is based on PAP, phthalimido peroxy carboxylic acid, which whitens your teeth gently and sustainably. Another advantage is that our hydrogen peroxide gel-free tooth whitening system is tooth-friendly and therefore does not attack the tooth surface and enamel. The bleaching agent, in contrast to a peroxide-based one, is also gentle on the gums. This means that you can also bleach sensitive vital teeth or exposed necks of teeth.
Our studios are also modern, so you will not be reminded of a dental office and can visit our studios without fear, even if you have dental anxiety.
Things to know about ALPINE WHITE In-Office Bleaching
It is good to know that the final result depends on the colour of your dentin, i.e. your teeth. This is because our bleaching technique only removes extrinsic discolouration, such as surface stains from coffee, tea, or smoking. This means that if you have dark dentin, you will probably not achieve the desired result with our bleaching. However, dark dentin is rare, and usually, a strong result can be achieved with our dental bleaching.
If you have severe tooth discolouration, you should plan for several sessions of our teeth whitening treatment to achieve white teeth. This applies to both ALPINE WHITE In-Office teeth whitening and Power Bleaching. With power bleaching, you will get white teeth in a very short time, but it is a radical method because the aggressive bleaching agent penetrates deep into the enamel. It's important to note that tooth sensitivity may be experienced as a potential side effect of the bleaching process.
If you have your teeth professionally cleaned before your teeth bleaching, you can enhance the whitening result. This is because dental hygiene removes tartar and the first discolourations. This allows the bleaching agent to work better on the tooth surface.
Even if you have veneers, dentures, or fillings, you can whiten your teeth with ALPINE WHITE In-Office Bleaching. However, these are only brought back to their original colouring and not additionally whitened.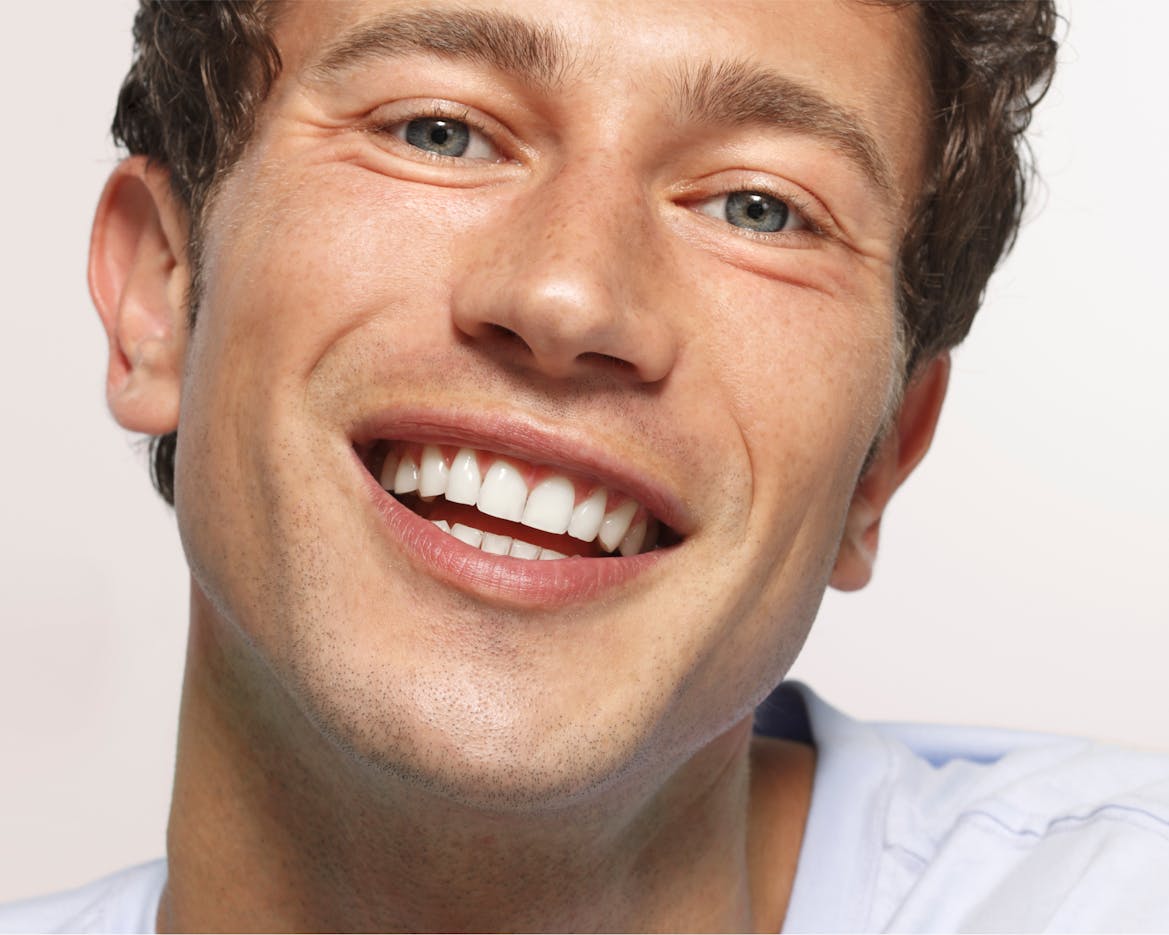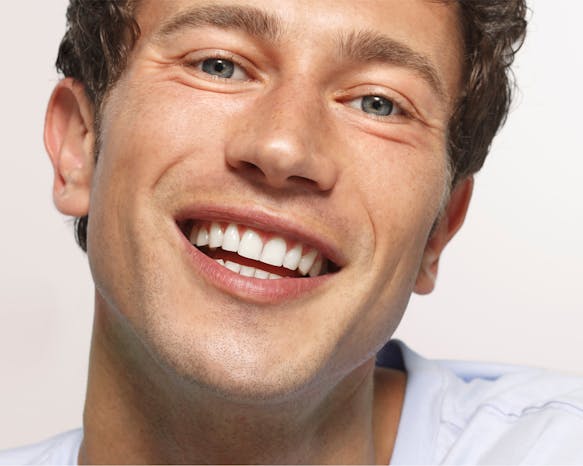 Dental hygiene
For a healthy mouth, regular professional dental cleaning is essential. Our specialist staff detect signs of caries at an early stage and prevent them.
Dental hygiene with the latest technologies
Relaxing atmosphere and gentle treatment
Easy to book online
Book appointment
The bleaching process
After you book your appointment with us online, you will receive our health questionnaire. With the questionnaire, our staff is optimally informed about you and can respond to you accordingly.
Once you arrive at the studio, you will be greeted in a friendly manner and taken to the treatment room. Your tooth colour will then be measured with the VITA scale and your teeth will be polished. The high-concentration whitening gel is applied to the teeth in four sessions, each lasting 15 minutes. Once the teeth whitening procedure is through, the final tooth colour is measured and a take-home whitening strip is applied.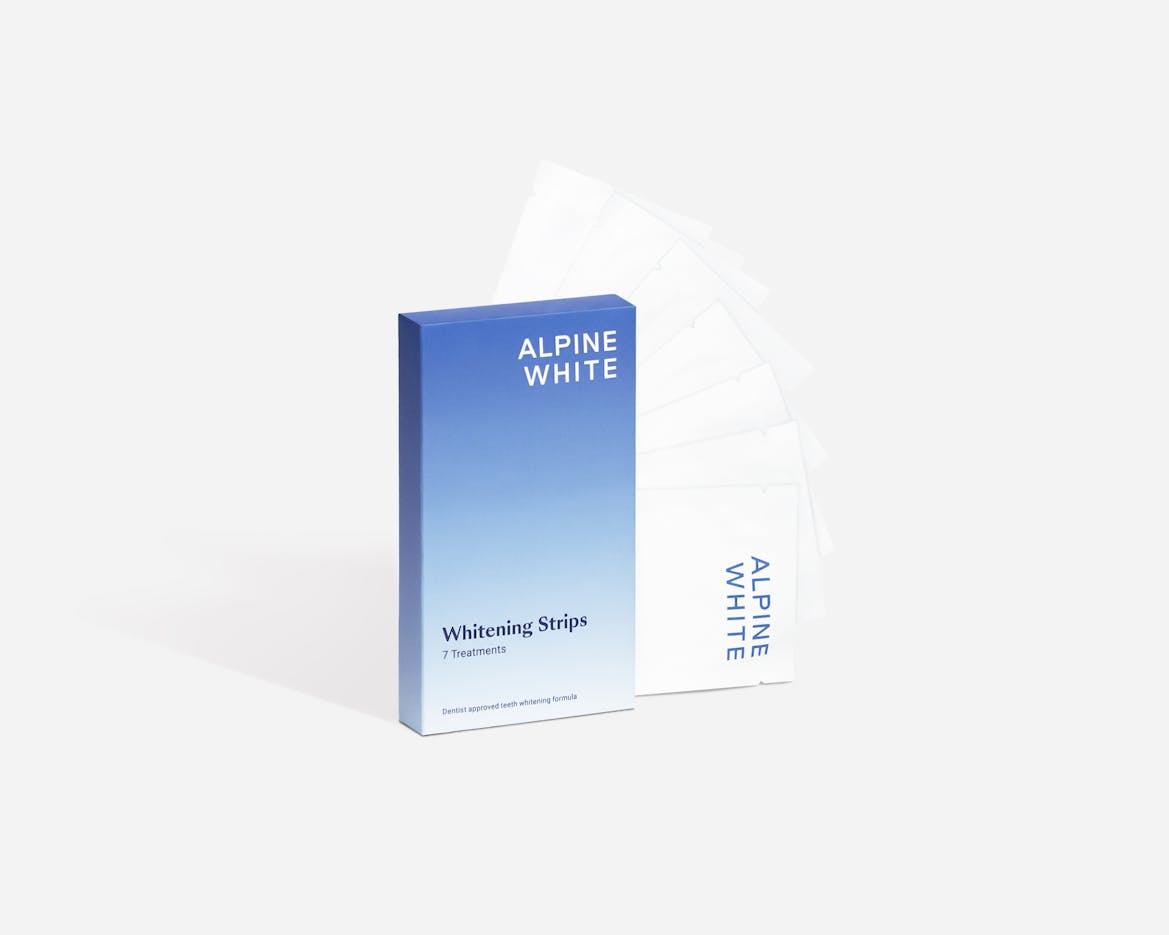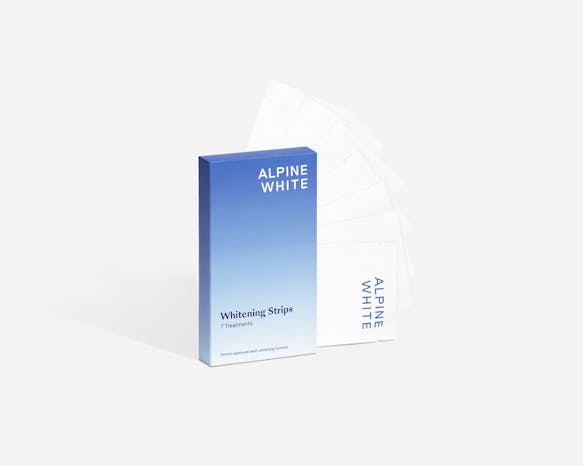 Whitening Strips
CHF 29.90
14 pc • CHF 2.14 / 1 pc
Achieve up to 7 levels of brighter teeth in 7 days. The Whitening Strips whiten your teeth permanently and safely. Suitable for every tooth position.
Clinically and dentally tested
Gentle on teeth and peroxide-free
Whiter teeth after 3 days
Cost of in-office bleaching
Our bleaching costs CHF 300 for 90 minutes.
What should you pay attention to after bleaching?
Immediately after bleaching, you should avoid discolouring foods like red wine for 24 hours. You should also not smoke or use tooth rinses. At the same time, ensure optimal oral hygiene, which requires regular dental care.
To keep your teeth white, use our whitening products, such as our Whitening Strips, Whitening Toothpastes or Whitening Kit for daily dental care at home. With our products, you not only brighten your teeth but also protect them from dental diseases such as caries and gingivitis.
This might also interest you