To the overview
Purple Colour Corrector Serum for your teeth
You may have noticed that the colour of your white teeth fades and becomes less vibrant over time, leaving you feeling insecure about your smile. Did you know that you can correct the colour of your teeth in no time? The latest teeth whitening trend, the Colour Corrector Serum, erases your tooth discolouration immediately after application. We'll explain what it is and how this teeth-whitening method works in this post.

Andrea Seraina
Dental Content Specialist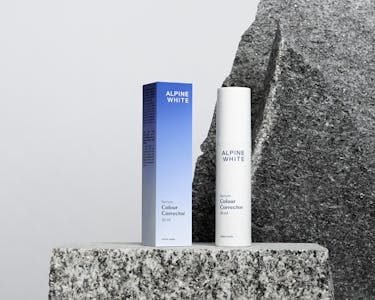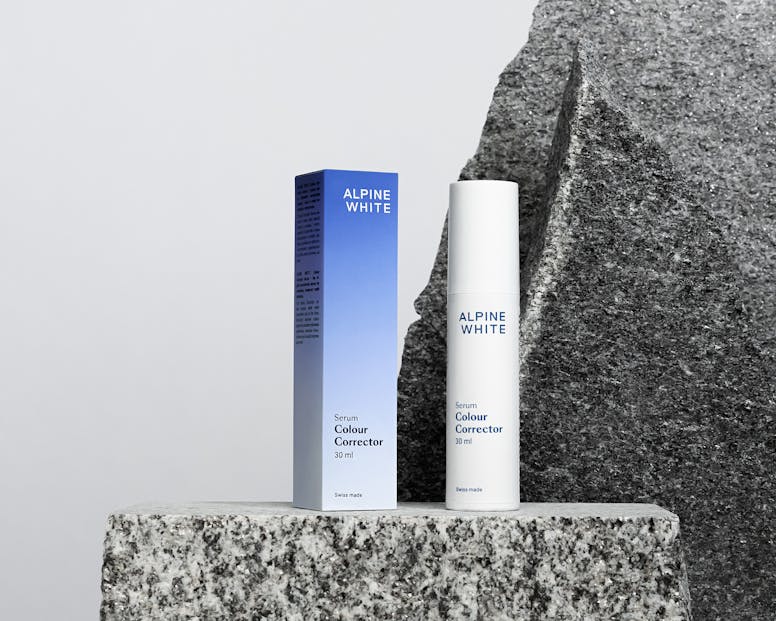 The latest TikTok teeth whitening trend
You may have seen videos on TikTok or Instagram of people applying purple or deep violet tone toothpaste to their teeth and having a bright smile afterwards. We have developed and manufactured the purple Colour Corrector Serum for you in Switzerland, as usual without peroxides and especially gentle for your teeth.
ALPINE WHITE's Colour Corrector Serum works like magic, neutralising your existing tooth colour instead of just covering it up like other methods. The result? A whiter smile in just two minutes. The effect is like a "purple shampoo for your teeth".
How does the colour-correcting Serum for teeth work?
At first glance, the Colour Corrector Serum looks like purple toothpaste. That's not so wrong, because the Serum is applied like toothpaste and provides you with purple teeth for two minutes. The only difference is that the Colour Corrector Serum does not contain fluoride. However, to make the Serum closer to purple toothpaste, we decided to add xylitol, which also removes plaque and prevents tooth decay.
The purple colour of the Serum was not chosen by chance. Purple is the complementary colour of the yellow discolouration on the teeth. Existing yellow stains are neutralised when the Serum is applied to the teeth. You will see strong results from the first application. Although the effect is purely visual, it lasts all day.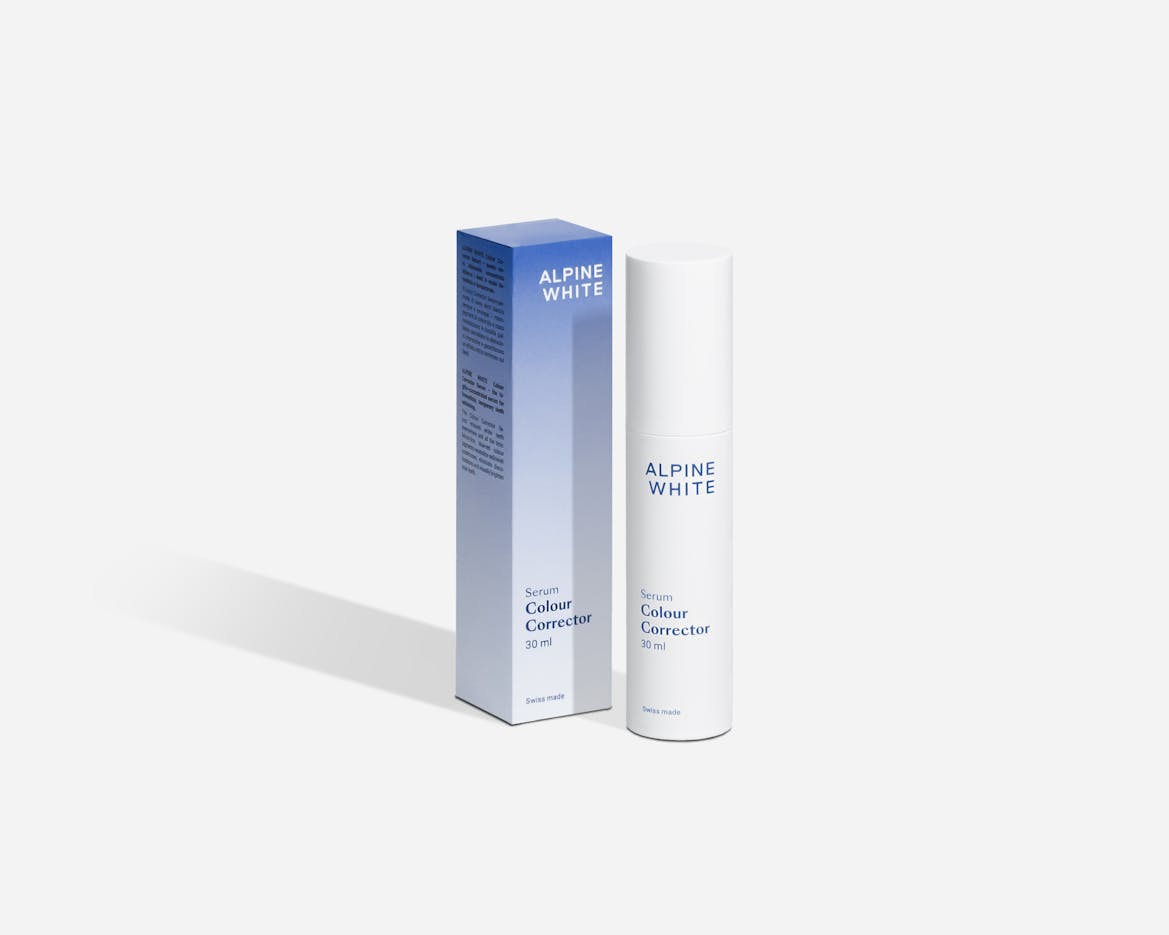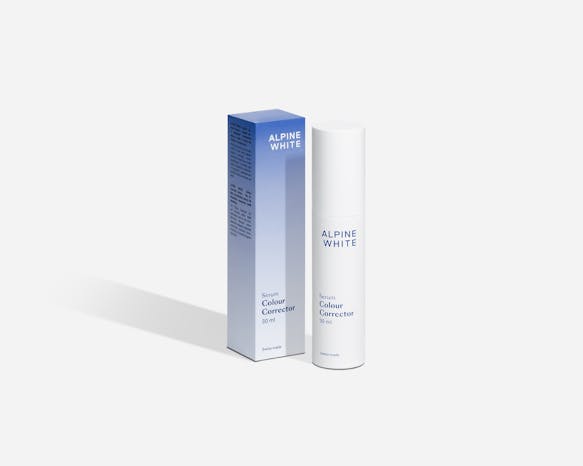 Colour Corrector Serum
CHF 24.90
30 ml • CHF 83.00 / 100 ml
Achieve a whiter smile in just two minutes. The Colour Corrector Serum neutralises yellowish undertones, conceals discolouration and thereby brightens your teeth.
Neutralises the yellow tint of your teeth
Immediate optical whitening
Gentle on teeth and peroxide-free
Peroxide-free teeth whitening with ALPINE WHITE Colour Corrector Serum
ALPINE WHITE Colour Corrector Serum works like a purple shampoo for your teeth. The gentle teeth whitening with our clean formulation is free from unnecessary ingredients. And because our Serum contains no hydrogen peroxide, this whitening method is not harmful to your teeth. We are also proud to say that the Serum is developed and produced in Switzerland.
Whiter teeth through the correct application of the purple tooth Serum
Using Color Corrector Serum is simple, but it is important that you do it correctly to maximise the effect.
It is best to brush your teeth before application.
Then apply the Serum all over the mouth or specifically to the visible front teeth when you smile. First, apply a little Serum to a soft toothbrush. Then clean your teeth for 2 minutes and finally rinse your mouth with water.
After using the Serum, your teeth will feel freshly polished. Thanks to the subtle mint flavour, it will also freshen your breath.
You can use the Serum as a supplement to your usual dental care routine or for special occasions. 
Different types of Serums
Besides ALPINE WHITE Colour Corrector Serum, there are other types of serums that we would like to introduce to you.
Teeth whitening Serums use unique ingredients to remove surface stains, reverse discolouration and reveal the natural whiteness of your teeth. The ingredients in Serums are often hydrogen peroxide, PAP, glycerin and aqua.
There are different types of teeth whitening colour correcting Serums. Here are a few examples:
Peroxide-based whitening Serum: These Serums contain hydrogen peroxide or carbamide peroxide as the active ingredient. They work by penetrating the tooth enamel and breaking down the stains that cause discolouration. However, if used improperly or excessively, teeth whitening products can damage teeth and gums or cause hypersensitivity.
Then there is the Teeth Whitening Colour Correcting Serum with Activated Charcoal. This Serum is known for its ability to absorb impurities and stains. This is because the granular activated charcoal acts like sandpaper to remove existing discolouration. The Serum is applied to the teeth and rinsed off after a few minutes of exposure.
Whitening Serums activated by an LED light. These Serums require a special light after the toothpaste has been applied. The light activates the whitening agent in the Serum and helps speed up the whitening process.
There is also a Gum Care Serum, a product that improves the health of your gums. These Serums can contain a variety of ingredients that strengthen the gums and reduce inflammation.
Sustainable teeth whitening with ALPINE WHITE products
At ALPINE WHITE, we offer a variety of products to help you achieve a brighter smile. If your teeth are fundamentally whiter, the purple colour-correcting Serum works even more powerfully.
Our Whitening Kit is the perfect kit to brighten your teeth at home. The Whitening Kit lightens your teeth from the first application and gives you a healthy, white smile. It also includes whitening pens that you can repurchase after you've used them all up.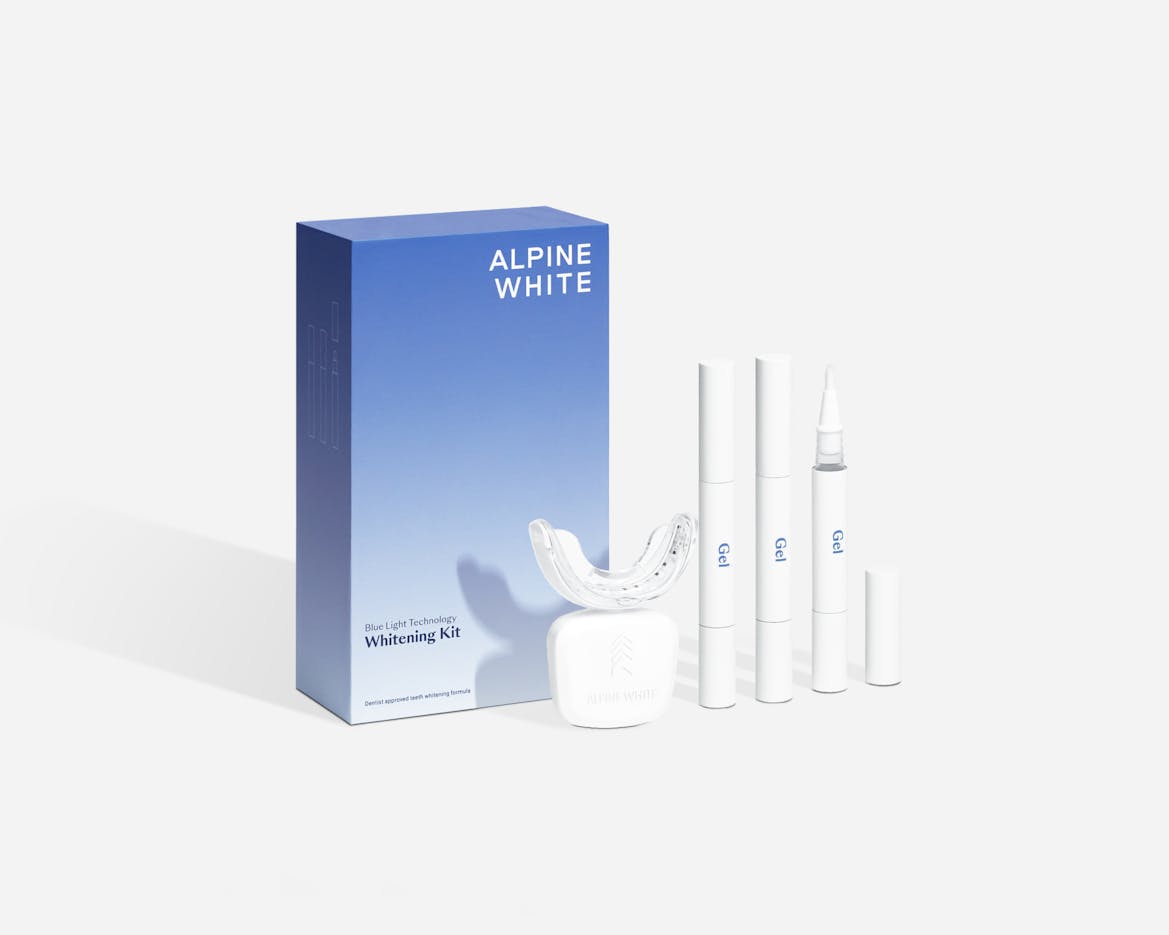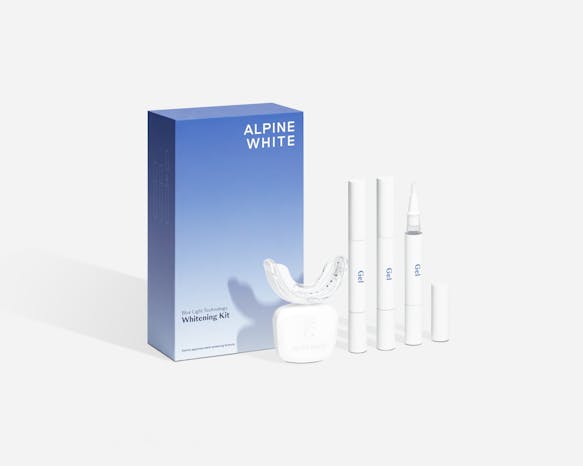 Whitening Kit
CHF 79.90
1 set • CHF 79.90 / 1 set
For fast and gentle teeth bleaching at home. The whitening LED light and the specially-developed whitening gel ensure visibly whiter teeth after just three days. Application for only 15 minutes daily.
Based on our clinically and dentally tested formulation
Use for just 15 minutes daily
Whiter teeth after 3 days
With our Whitening Strips, you can easily get rid of yellow teeth. You can wear the teeth Whitening Strips anytime thanks to their transparent colour. And according to customer reviews, our bestseller.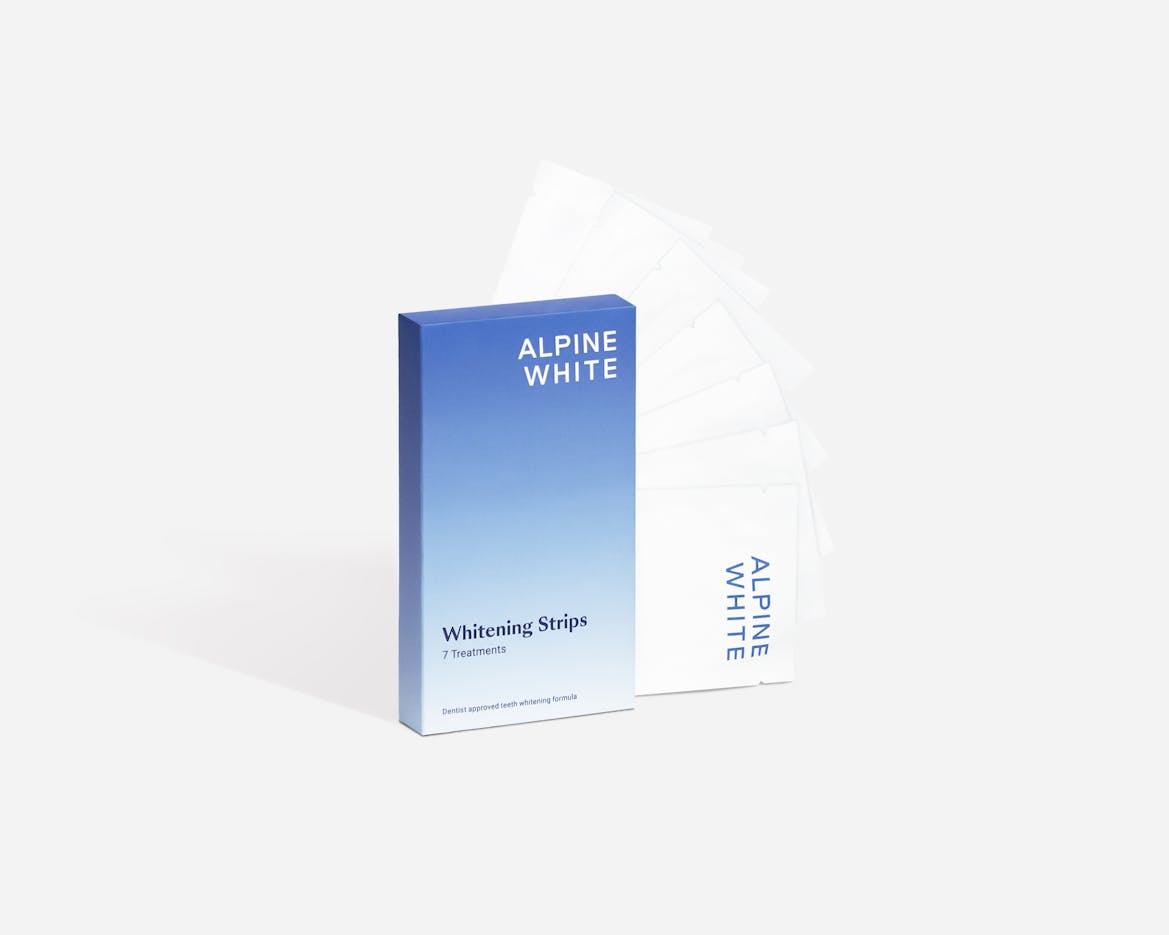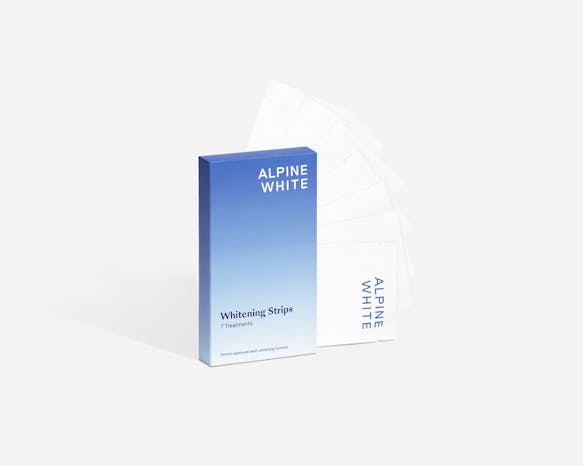 Whitening Strips
CHF 29.90
14 pc • CHF 2.14 / 1 pc
Achieve up to 7 levels of brighter teeth in 7 days. The Whitening Strips whiten your teeth permanently and safely. Suitable for every tooth position.
Clinically and dentally tested
Gentle on teeth and peroxide-free
Whiter teeth after 3 days
Our Charcoal Powder acts as a whitening powder and a teeth stain remover. The ALPINE WHITE Charcoal Powder is designed to remove stubborn stains, plaque and tartar and improves brightness. It is also the perfect preparation before using the White Strips or Kit.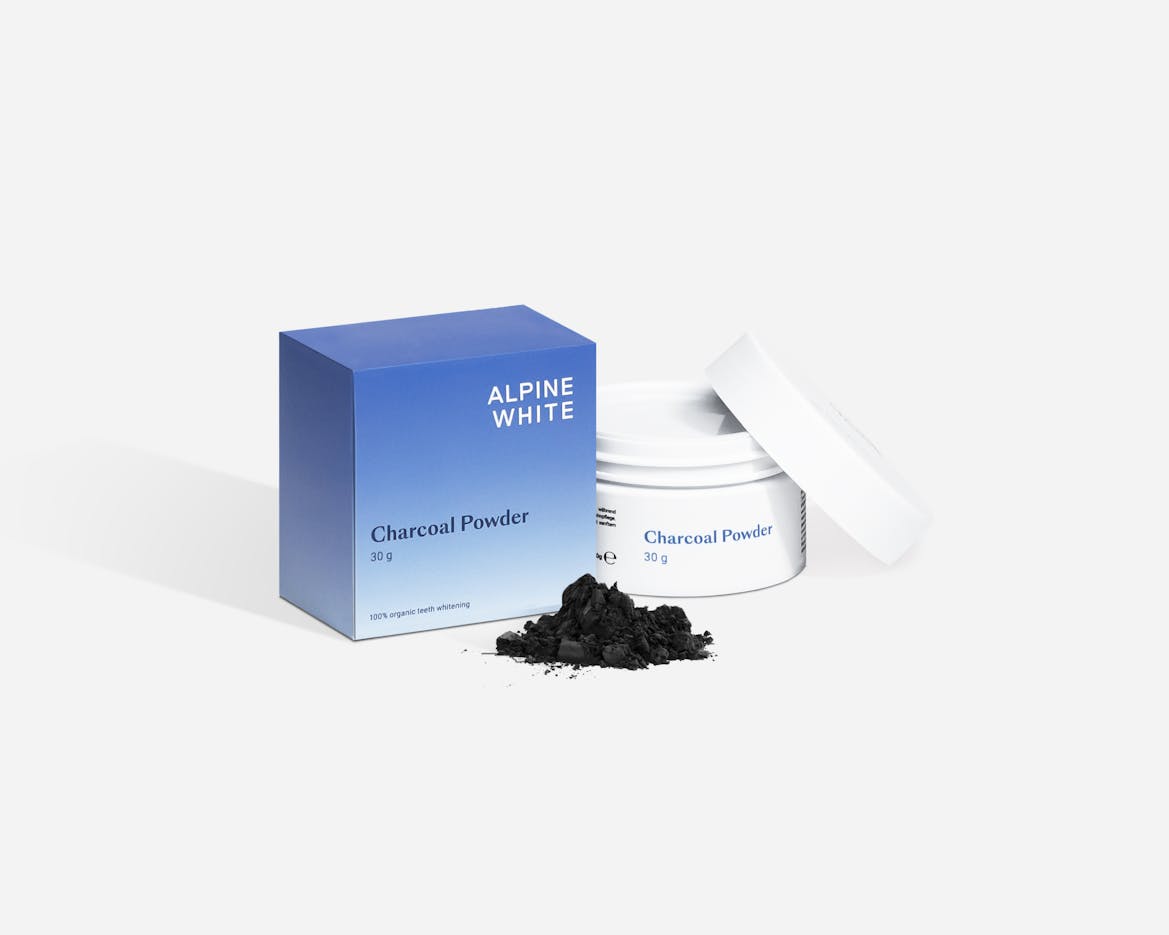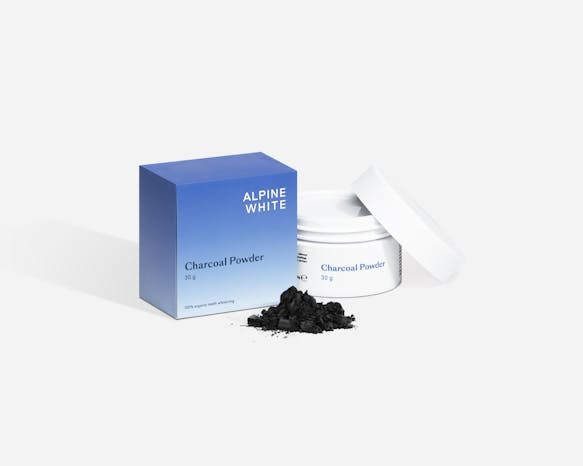 Charcoal Powder
CHF 22.90
30 g • CHF 76.33 / 100 g
Tooth powder made from activated carbon to remove stubborn stains, plaque and tartar. For naturally white teeth. Also perfect for preparation before using the Whitening Strips or Kit.
100% natural ingredients
Effective removal of deposits and discolorations
Restoration of natural teeth whiteness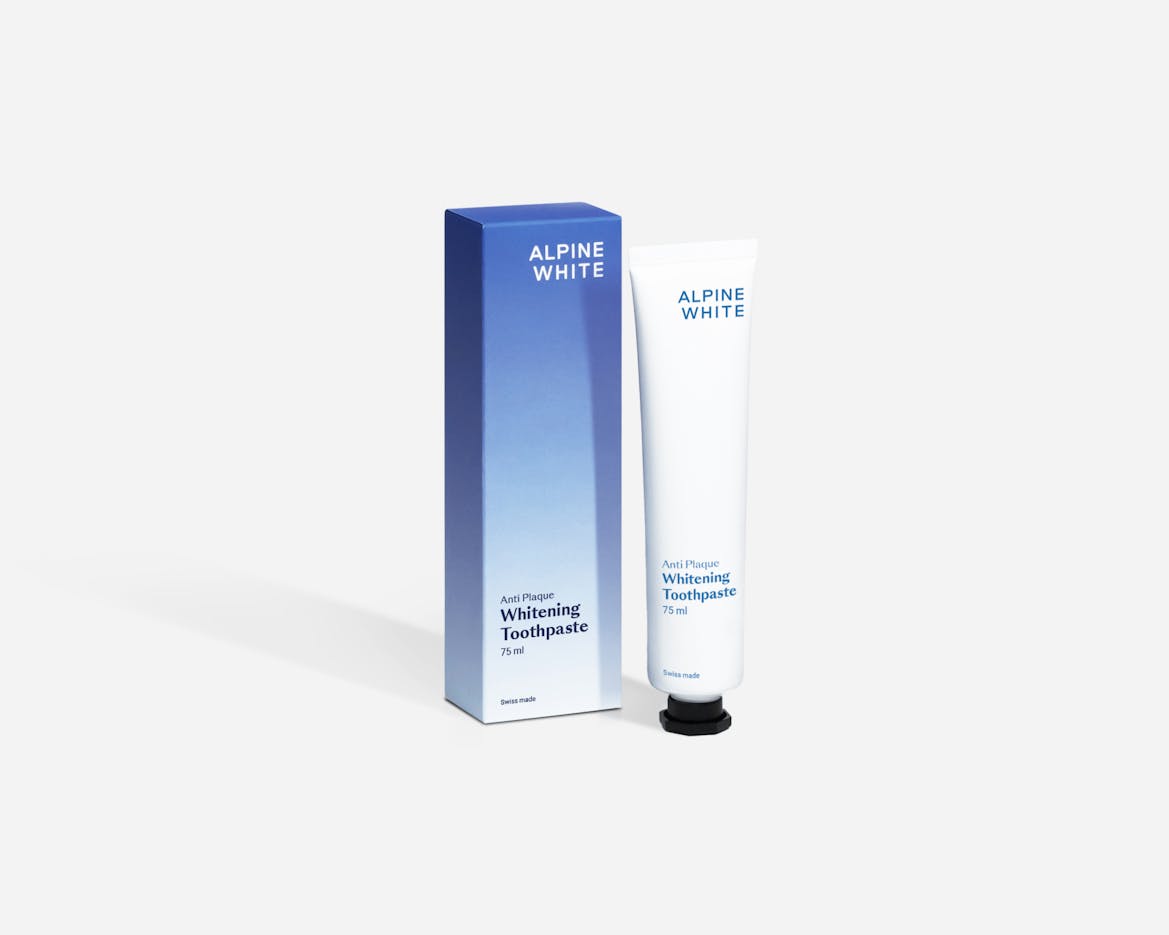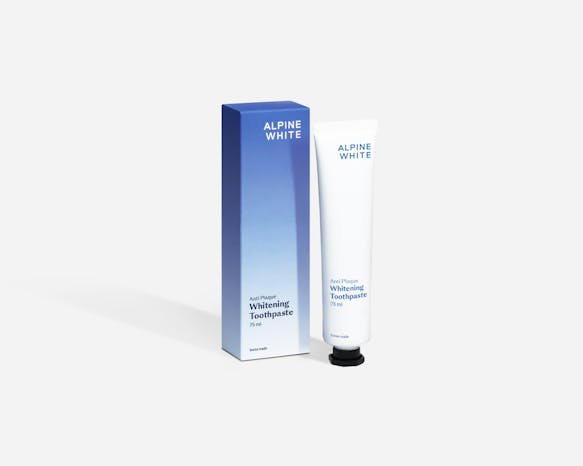 Whitening Toothpaste Anti Plaque
CHF 19.90
75 ml • CHF 26.53 / 100 ml
Your solution for stubborn plaque. Whitening Toothpaste Anti Plaque is designed to remove plaque and whiten teeth at the same time. For daily gentle dental and oral hygiene.
Removes stubborn stains and tartar
Based on our clinically tested Whitening formulation
Remineralizes the enamel and relieves existing tooth sensitivity
Antioxidants for healthy gums
ormulated and produced in Switzerland
You can use our Whitening Foam as a mouthwash or toothpaste when you're out and about, as you can swallow the Foam without any side effects.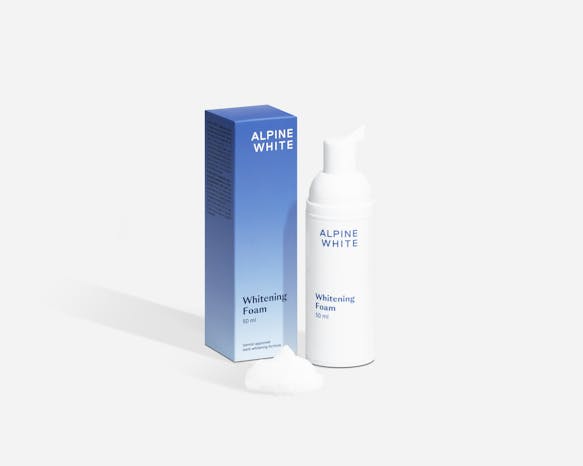 Whitening Foam
CHF 16.90
50 ml • CHF 33.80 / 100 ml
For instantly whiter teeth and fresh breath. The 2-in-1 Foam visually whitens the teeth and cares for the oral cavity. For use as a toothpaste at home or as a mouthwash on the go.
Blue light filter with instant whitening effect
Fluoride-free dental care
2-in-1 dental care and mouthwash
It is essential to know that all our products are optimal oral care. You can also use the products if you have veneers, but they will only return to their natural colour and not become brighter.
Teeth whitening in the Studio or at home?
Whether you should whiten your teeth in the Studio or at home depends on your personal preferences. The two methods clearly differ in terms of time and cost.
In-office bleaching in the Studio costs CHF 300 and takes 90 minutes.
You can use our products for at-home teeth whitening anytime, anywhere and whenever you want. They vary in price and the cheapest product, the Whitening Foam, starts at 16.90 CHF and ends with the Whitening Kit for 79.90 CHF. 
Do you have any further questions? Then contact our customer service or come directly to one of our Studios.
This might also interest you